WWIV BBS Software
WWIV is computer bulletin board system (BBS) originally written in Basic, ported to Pascal, C and now C++. WWIV v5 is Open Source released under the Apache License version v2.0.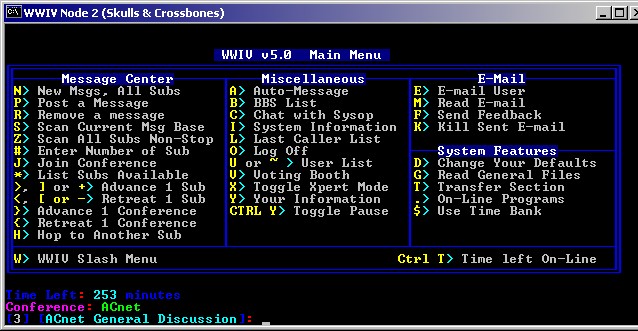 WWIV
Features
File compatible with 4.3
32-bit Win32 version
Linux version
Includes GUI Telnet Server
Includes WWIVNet Support
Internal Z-Modem
Internal QWK
DOOR32.SYS support
Supports the Synchronet FOSSIL Driver
Developers
Contribute

WWIV is Open Source software developed on GitHub.

Contribute at github.com/wwiv. Download the latest builds from our WWIV Jenkins Server
Join us on IRC

The development team and fellow SysOps hang out on IRC at the following server:
| Title | Link |
| --- | --- |
| Server | irc.wwivbbs.org:6697 (use SSL) |
| Channel | #WWIV |
Click to Join IRC
Credits

WWIV is Open Source Software and is Copyright © 2015 WWIV Software Services.